Karaka Pines Villages
in residents' own words.
Watch the short videos below to learn why these savvy people chose to move to the Karaka Pines Village they're now proud to call home.

Capital gain was part of our proactive approach to aging. We wanted to make the move before we had to. Here everything is really well thought out. Our home is spacious and easy to look after. And the capital gain gives us the confidence to do the things we've been looking forward to.   

Margaret
Retired Educationalist

Without a doubt it was the capital gain that sold us. But it was more than that.
The value of what we could get here – three bedrooms, a double garage, so I could have my workshop, and a small garden to keep Diane, my wife, happy. Well, we just knew it was the one.   

Terry, Bruce and Diane
Residents at Karaka Pines Villages

I wouldn't have gone anywhere that didn't have capital gain. I think it's greatly fairer here than some of the other options out there. And my accountant and solicitor both thought it was a very good idea. For us capital gain was the deciding factor in choosing to come here.    

Sandra
Retired Business Owner

The capital gains made it feel like they actually care about my mum and dad. The process has been brilliant. The communication has been great all along the way. Plus with the capital gain, mum and dad will benefit from, I think it's an amazing place.   

Chris
Son of a Resident at Karaka Pines Villages

The share in the capital gain is a much fairer arrangement. It's important you do your due diligence. You decide what ticks more boxes for you. Here the share of the capital gain meant we had more equity, so it felt more like ours.   

Terry
Retired Financial Service Manager

I think it's a great investment and great value. I only took two steps in and immediately felt at home. It was a great size – plenty of room in the kitchen as I love to bake – a good size bathroom. It had everything I wanted plus my lawyer thought it was a good investment.   

John and Liz
Retired Gourmet Food Retailer and Retired Builder

Capital gain is very important. Mum and dad worked hard – they don't want to lose money. Aside from that, mum and dad have made so many new friends here. And their old friends are always coming over too. They're very social. Everybody's friendly, everybody's happy. There's a sense of belonging.   

Donna
Daughter of a Resident at Karaka Pines Villages

The capital gain is a bonus. A real bonus. But that's not the only box this place ticks. The cost of living here is lower than our old house, with the rates, insurance, and maintenance and what not. And it's well built. A lot of places are el cheapo, but the joinery here is of good quality, and the rooms are a good size.   


I love my home here. As an investment – wonderful. The capital gain was a big thing, but I also love the spaciousness of the place. It was perfect for us, with wide passages. And the companionship – I've made lots of friends, lots of laughs. It just feels really great.   

Anne
 Retired Antique Dealer

The capital gain made it a no brainer, we thought. We couldn't wish to be anywhere else. It's such a wonderful environment.   

Diane
 Retired Business Owner

Everyone looking at a retirement village must consider value for money. We certainly got value for money and I think everyone else here feels the same way.   

Gus
 Retired Business Owner

Capital gain was a big influence. It meant we knew there'd always be money left to help our kids – especially the grandchildren. But it was also the quality of the build that swayed us…it was very good.   

Michael
Retired Builder & Cabinet Maker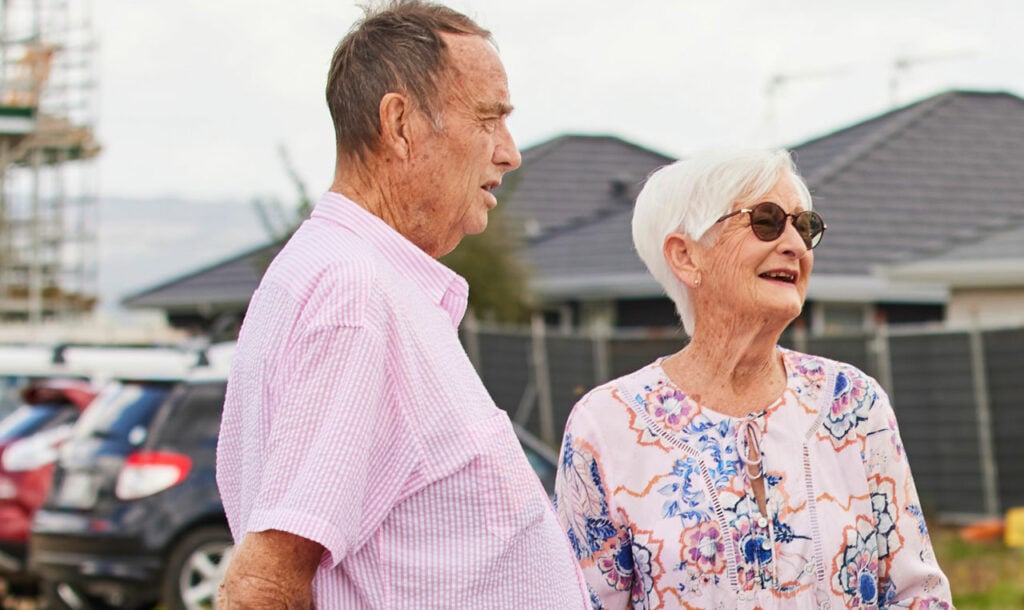 It's the best decision we've ever made as a couple. We looked at every other village, none of which had capital gain. But when we came here for the first time, we thought this is the place. And moving into our new home was exciting – a complete new adventure.   

Jane and Bev
 Residents at Karaka Pines Villages

I just felt it was the place to be. Everyone looks out for each other and you don't feel isolated. It's very friendly, but you're also left to your own devices. You can do what you want, when you want. I think that's a good reason to be here.   

You have so much more to gain
Get in touch with one of our friendly team now to learn how you could be so much better off living at a Karaka Pines Village.