Karaka Pines Rototuna is a brand new community in North Hamilton where no effort has been spared to create the perfect environment for you to enjoy a satisfying and easy-going retirement.
Karaka Pines Rototuna is one of our Next Generation Villages which have been designed from the ground up to be the new standard of excellence in retirement living.
Along with all the other benefits this village offers, you'll get the benefit of the capital gain in your home.
Drop by for a coffee and a chat with Carol. See for yourself how Karaka Pines Villages has so much more to gain!
Call Carol now to view or for more information: 021 621 377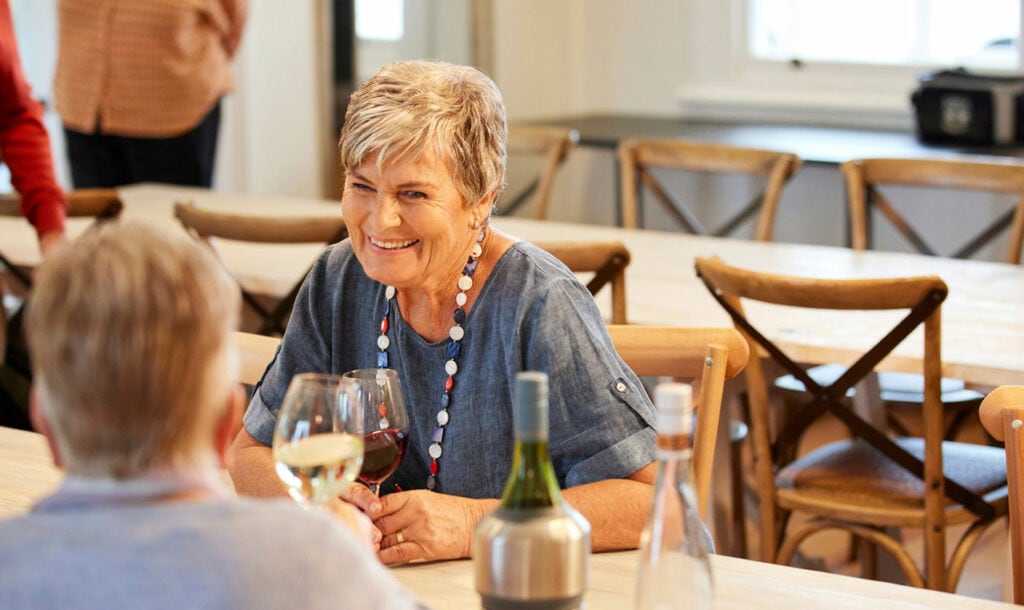 Located for maximum convenience
Karaka Pines Rototuna is located for maximum convenience beside a large park and shopping centre. Access to other parts of Hamilton is easy by car or public transport, with a bus stop right outside the village. The Radius Glaisdale Care facility is just across the road. Horsham Downs golf club and the beautiful Waikato River walking and cycling paths are close by as well.
There are three stages planned for Karaka Pines Rototuna. We expect the village to be complete in 2025 with 141 homes including stand-alone, duplex, apartment and terraced homes.
With these options, there's sure to be one that's just right for your retirement lifestyle. Find Karaka Pines Rototuna on the map here.
Your choice of Stand-alone, Duplex, Apartment or Terraced Homes
You'll find the ideal home for your retirement in Karaka Pines Rototuna. Choose from two or three bedrooms, single or double garages, stand-alone or duplex, apartment or terraced homes.
All homes here are positioned to catch the sun, with generously sized lounges, opening onto patios or balconies. Most homes come with a single garage, because the convenience of life here usually means one car is enough. But if you need a second car or simply want extra space for a workshop or extra storage, you have the option of choosing a home with a double garage.
Everyone has better things to do than spend time on home maintenance. That's why all homes here are built with long-life low-maintenance materials – mostly brick and tile. The village management are responsible for all external maintenance of your home.
You'll be cosy all-year round at Karaka Pines Rototuna. Warmth is assured by the north facing aspect of all homes, insulation, double-glazing and energy efficient heat-pumps. All fixtures and fittings are premium quality to stay working and looking good for the years ahead.
We all like to add our own special touches to our home. If buying a home yet to be constructed we do offer a range of options and colour choices that you can incorporate in your new home.
Stand-alone Homes
A spacious feel is shared by every home at Karaka Pines Rototuna. All stand-alone options offer either two or three double bedrooms, ensuite with walk-in shower, full guest bathroom, generously sized lounge and high quality kitchens.
Our three-bedroom, double garage stand-alone plans are the
Harris
,
Kestrel
and
Norfolk
.
Duplex Homes
Our duplex homes are joined at their garages, with sound barrier walls, so you don't lose privacy. You can choose two or three bedrooms, with a selection of floorplans to suit your needs.
Our two-bedroom options are the
Juniper
and
Berkeley
. Three-bedroom plans are the
Eastwood
,
Lucerne
and
Melrose
.
Stanaway Apartment
Safety, security, style - the Stanaway Apartment offers you the choice of two ground floor or three first floor homes, three of which have their own double garage while the other two have a single garage.
There are two large three-bedroom homes on the ground floor opening onto lawns and gardens.
On the lift-accessed second floor are two large three-bedroom homes with morning or afternoon sun, and a large two-bedroom home featuring a large deck and lovely views.
All homes in the
Stanaway Apartment
include walk-in wardrobes in the master bedroom, full ensuite and full guest bathroom.
Terraced Homes
Another option with a chic urban feel that's coming in Stage Two is the
Robertson Terraces
.
Close to the village clubhouse these homes offer exceptional value for money and feature two or three bedrooms, a full bathroom plus a separate guest toilet, plus a home office/study in the two-bedroom units, and a single garage.
Living at Karaka Pines Rototuna
When you visit Karaka Pines Rototuna for the first time you'll feel an immediate sense of how much simpler and easier life could be.
When the Clubhouse is built as part of Stage Three of the development of the village it will become the focus of community activities. It will include a gym, library and billiards room for you to enjoy as you please. Its delightful village green inspired gardens will feature a croquet lawn, petanque court and lovely tranquil seating areas.
There's a lot to do here. But of course you can be as involved in community life in the village as much, or as little, as you like. It's your home, so it's entirely up to you.
Family and friends are always welcome to visit or to stay. They'll love how spacious your home is. There's plenty of room for grandkids to play and space in the kitchen to create memorable meals for family gatherings, like Christmas and birthdays.
As rewarding as living at Karaka Pines Rototuna can be, it doesn't mean you're disconnected from the wider community. Many people who live in Karaka Pines Rototuna are closely involved with local sports and social clubs, and some are still working and running businesses.
Your flexible options at Karaka Pines Rototuna extend to how you pay the fees. You'll find more on our fees, why you pay them, and why we think they're fair, here.
The first option is a facilities fee of 12.5% of the sales price of your home in the village paid out of the proceeds when it's sold. This fee is incurred at 6.25% per year, capped after two years. There is also a weekly fee, which is currently $165/week (but will rise as external costs increase). There is a 30% per week discount which applies until the Club House is complete. Included in this fee is a contribution to a long-term maintenance fund that will ensure the village is kept in top condition in the years ahead.
Alternatively, you can choose to pay a  $110 fixed weekly fee for the whole time you're in the village. If you choose this option the facilities fee is increased to 25% of the sale price of your home – incurred at 7% per year for three years and then 4% for the fourth years.
Like all properties that come under the Karaka Pines Villages umbrella, when the time comes to sell, you are the one who benefits from the capital gain in your home, not the management. We think that's only fair.
You have so much more to gain
Get in touch with one of our friendly team now to learn how you could be so much better off living at a Karaka Pines Village.