Apartment living but not as you know it!  Spacious, attractive, safe and secure with excellent finishes and fittings, all these were front of mind when our architects drew up the plans for our boutique apartments.
There is plenty of room for entertaining with the generously appointed kitchen or having guests to stay in one of the three bedrooms. Master bedroom has an en-suite, with a full bathroom for your guests.
All face north to ensure a sunny aspect and include Alfresco courtyards or balconies. There is internal access, single or double garage options available.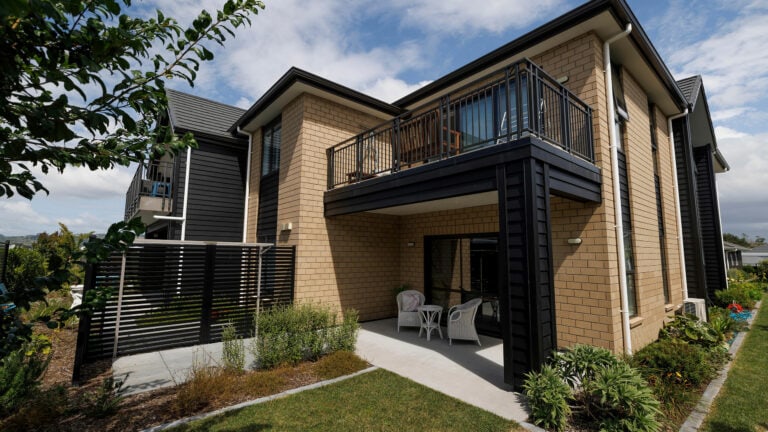 The layouts keep bedrooms well away from next door kitchens and bathrooms, while sound-proofed inter-unit walls further impede neighbouring noise, so you can quietly enjoy your space.
Extra security is provided by the locked floor level entry to the building's lobby/lift.
Stanaway Apartment features
The two-bedroom option is located centrally on the first floor (Stanaway Apartment Upper North)
The three-bedroom options are located on both the ground floor and first floors.

Capital gain was part of our proactive approach to aging. We wanted to make the move before we had to. Here everything is really well thought out. Our home is spacious and easy to look after. And the capital gain gives us the confidence to do the things we've been looking forward to...
The share in the capital gain is a much fairer arrangement. It's important you do your due diligence. You decide what ticks more boxes for you. Here the share of the capital gain meant we had more equity, so it felt more like ours...
I wouldn't have gone anywhere that didn't have capital gain. I think it's greatly fairer here than some of the other options out there. And my accountant and solicitor both thought it was a very good idea. For us capital gain was the deciding factor in choosing to come here...
You have so much more to gain
Get in touch with one of our friendly team now to learn how you could be so much better off living at a Karaka Pines Village.